I'm sorry this is late but I started year 13 a few days ago and
I'm
just kind of getting back into school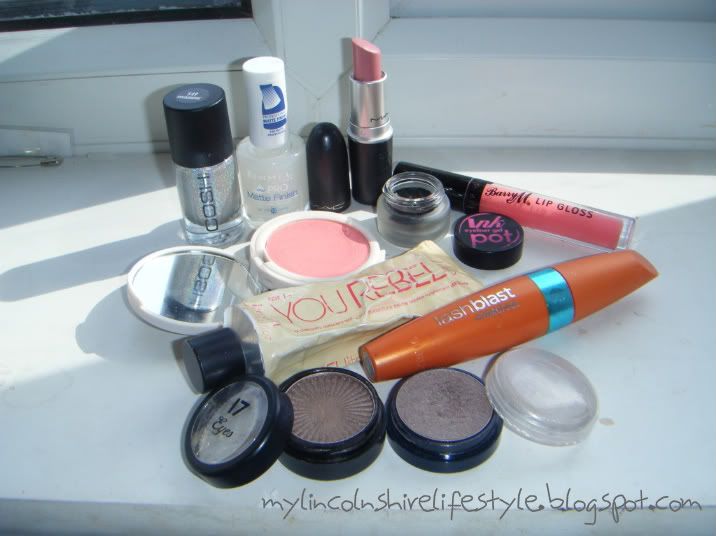 Gosh Holographic Nail Polish
My absolute new favourite :) I love it, and I get asked about it whenever I wear it. I really want to try and get more Gosh polishes, they are so lovely!
Rimmel

Matte Finish Nail Polish

This is so perfect for school. I'm not allowed to wear nail polish to school but by wearing a nude polish and then the matte top coat over the top makes it look really natural but still nice.
Mac Lipstick in Angel Angel is about as adventurous and bright as I go with lipstick. I've really liked wearing this over August just to brighten up my day.
Barry M

Lipgloss

in Coral

Nowhere near as pigmented as some other Barry M glosses I have tried, but it smells lovely and is just really easy to wear either alone or over any lipstick.
Sleek Ink Pot in Dominatrix Why did I wait so long to try gel liners? I love this and can't wait to try out some other colours and brands! I never really bothered with eye liner because I found it too difficult to apply but this is so easy with an angled eyeliner brush.
Topshop

Blush in Flush

This is without a doubt, the best blush I own because the colour just suits my skin tone perfectly. There really isn't much more I can say about it.
Benefit You Rebel Tinted Moisturiser I've used this tinted moisturiser so much this summer and am really interested to look into some other brands ready for next summer.
CoverGirl

Last Blast Waterproof

I need some more of this soon, it's just perfect :)
Boots 17 Eyeshadow in
Mardi
Gras
This is great to wear along the lower lash line and then to line the top with just a flick of mascara. Really effortless but brightening.
Max Factor Eyeshadow in Burnt Bark Please, please, please, please just promise me next time you are at a Max Factor counter you will at least swatch this shadow. It is without a doubt my most used eyeshadow! I love everything about it.