So, it has been a while since I did a favourites post so this is a collection of the past three months worth of products. Enjoy :)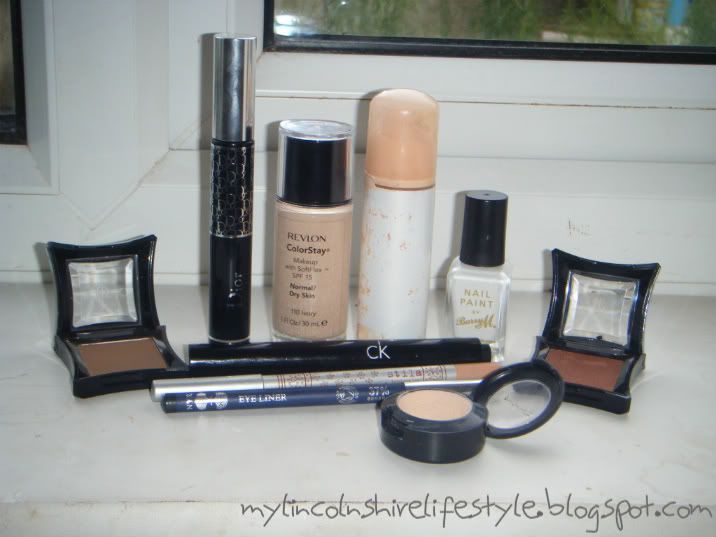 Illamasqua Eyeshadow in Jules
My only matte eyeshadow that works great in the crease
DiorShow Mascara Slightly strange smell but really helps to open the eyes and add length to lashes
Revlon ColourStay Foundation Great coverage and a lovely dewy finish, but be careful it can look a little greasy
Bourjois 10 Hour Sleep Foundation Probably my all time favourite!
Barry M Nail Paint in White Goes amazingly with a tan
Illamasqua Eyeshadow in Tango Reminds me a lot of a classic Olsen eye when it is smoked out
Calvin Klein Highlighter Pen Really brightens the eye area
Stila Kajal Eye Liner in Topaz at first I didn't like it but on the waterline I think it really makes a difference
Neal's Yard Remedies Eye Liner in Black Smokes out beautifully, and I think it was a freebie in a magazine
Mac Studio Finish Concealer This will forever be in my favourites, the coverage is flawless
Clearasil Ultra Overnight Lotion I think this really has helped to clear up my skin recently
Superdrug Vitamin E Illuminating Moisture Cream Amazing tapped along the cheekbones
Neutrogena Deep Clean Invigorating Daily Scrub Seriously cannot rave about this enough. I have really dry skin but this removes it all and makes my face feel and look super smooth
Maybelline Dream Sun Glow Instant Bronzing Perfect for an instant tan that you only want for one night
Soap & Glory Righteous Butter Always a favourite!